Extension program bridges digital gap in rural areas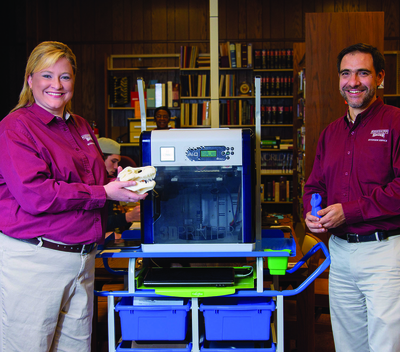 Writer: Mr. Robert Nathan Gregory, MSU Extension Service
QUITMAN -- Bringing rural Mississippi communities into the digital age is the objective of a newly established Mississippi State University Extension Service program.
The MSU Extension Intelligent Community Institute, or MSUE-ICI, is a joint project between the Extension Center for Technology Outreach, Extension Center for Government and Community Development, and its parent worldwide organization, the Intelligent Community Forum.
Designated as an Intelligent Community Institute in October 2014, MSUE-ICI is currently working to help nine rural communities across the state transition to, plan for, and prosper in the digital age through research and outreach, specifically its Intelligent Community Outreach Process.
Roberto Gallardo, associate Extension professor in the Center for Technology Outreach, said doing so means understanding characteristics of the digital age and their implications for businesses, governments, and residents.
"There is not a lot of research on the impact of broadband in rural areas," Gallardo said. "You see a lot of it on cities, but there is little attention to rural settings. We are trying to generate that research by working with communities that want to participate."
Though it is only in its second year, the foundation for MSUE-ICI was established when Extension received grant funding in 2011 to increase broadband adoption and availability throughout the state. Gallardo said, for the next 3 years, Extension formed partnerships with the Mississippi Development Authority along with WIN Job Centers and public libraries. Due to a solid working relationship with these and other statewide agencies and an important need for digital literacy, Extension applied to be designated as an established ICI with rural communities in mind.
The Intelligent Community Outreach Process put in place by ICF identifies the unique digital challenges each community faces and provides local Extension agents and other local champions with the tools necessary to address those needs over an 18- to 24-month, four-step process. The steps are increasing awareness; identifying assets and needs; implementing a strategy to address those weaknesses and leverage existing assets; and nominating themselves for consideration from ICF as one of 21 Intelligent Community yearly designations in the world.
One Mississippi community already benefiting from the efforts of MSUE-ICI is the city of Quitman. Gallardo worked with the town's public library to purchase a three-dimensional printer for the facility. He said the library's new tool addresses two indicators of Intelligent Communities: knowledge workforce and digital equality. Broadband connectivity, innovation, marketing, and sustainability are the other four indicators.
"It's been fantastic," Gallardo said. "If the kids there are reading a book with an emphasis on the Empire State Building, they can print a 3-D model of the building and develop a better understanding of the book. More than likely, they would not have seen that elsewhere. Exposing kids to STEM-related concepts at an early age can have a significant impact on their lives later on as they choose career paths."
East Mississippi Regional Library System Director Josh Haidet said the new equipment has gotten local young people coming to the library more often to see it at work and using their imaginations on ideas for objects that could be printed next.
"What really blows their mind is that they see that we have actually made this at the library with the machine," Haidet said. "We did not have a 3-D printer in this area before, so having something like that here has been great for kids to come in because it's introducing them to emerging technology.
"Roberto has been a true asset to this area, and we can't thank him enough for his work," Haidet said. "It has been very helpful to our community."
Gallardo said the Intelligent Community concept plays well into the Extension mission of extending knowledge and changing lives because it creates another role for Extension in the 21st century.
"Incorporating the IC concept provides strong incentives for Extension specialists and agents to develop relevant programming to address 21st century needs in their communities," Gallardo said.
Source: Extension program bridges digital gap in rural areas