MSU Extension expertise helps boost Mississippi tourism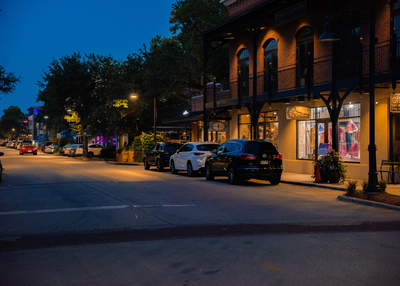 Writer: Ms. Susan M. Collins-Smith, MSU Extension Service
RAYMOND, Miss. -- Ocean Springs. Natchez. Vicksburg. These Mississippi cities are just a few of the state's gems drawing praise from various publications for their tourist-friendly atmosphere.
WorldAtlas highlighted these three cities along with Tupelo, Oxford, Woodville and Bay St. Louis for their "warm and inviting" main streets that offer "endless activities." Forbes recommended the entire state of Mississippi as a travel destination, noting its "cutting-edge culinary scene to buzzing small towns to incredible natural beauty."
None of this is a surprise to Rachael Carter, tourism specialist with the Mississippi State University Extension Service. She knows how much thought and planning it takes to execute successful tourism programs. Carter and her colleagues in the Extension Center for Government and Community Development spend countless hours working with and providing support services to tourism professionals throughout the state.
"We do things like assessments, economic impact studies and market studies to provide data to help them with their strategic planning process," Carter said. "If cities or towns have an issue or challenge they need help with, they come to us.
"For example, when a town is looking at adding a food and beverage tax, and they want to know what the economic impact of that will be, we can provide the data on that. Or they are applying for funding to revitalize a part of the town, and they want to know if that project makes sense for them or if those funds could be better spent on another project, we can do those kinds of studies," she said.
In providing these types of services, Extension specialists helped Mississippi bring 24 million visitors to the state in fiscal year 2022. Ranking fourth among Mississippi's largest private sector employers, tourism generated $7.1 billion in total visitor spending in fiscal year 2022, a 5.1% increase from the previous year.
Kent Bain, project coordinator with the Mississippi Hills National Heritage Area, or MHNHA, works with Carter and her colleagues on a regular basis. He said they provide a range of in-region services and expertise that many communities might not have access to otherwise.
"I'm not sure how some things would get done without the services that Rachael and her colleagues offer," Bain said, pointing out that Carter is involved with many projects from the beginning. "Many times, she is in the meetings with the team that does the initial planning and then she's with them through the entire process.
"If that were done by a firm, it would cost a lot of money and many times a firm doesn't know the area that well. Rachael lives in Mississippi and works with these communities every day," He continued. "She understands what's going on in the region, with government policies and what will work best for a particular community and its citizens."
MHNHA provides grant funding to cities, towns and communities in their region for certain heritage preservation projects, including historical exhibits, historical preservation projects and outdoor recreational projects.
The center's staff helped MHNHA to develop a regional food trail and provided a study to examine the possibilities for a series of thematic heritage trails in the Mississippi Hills region. They also gave advice on the development of a potential regional interpretive center and a new rail trail in north central Mississippi and the Golden Triangle.
"These are some of the larger projects, but there have been a number of smaller ones as well. CGCD staff are always extremely responsive and helpful," Bain said.
Danielle Morgan, executive director of the Mississippi Tourism Association, works closely with the Extension center's staff and recently asked them for a program that would help tourism professionals in the state strengthen their efforts. The first class of 17 professionals graduated the Excellence in Tourism Leadership Program on Oct. 5.
The program provides core courses in leadership, community building and public policy that teach people how to build relationships, be leaders, and understand local government. These are the keys to building a successful tourism program and are not necessarily skills gained when one gets a marketing degree, Carter said.
"Our organization saw a need for a program that would offer developmental opportunities for tourism leaders and reached out to Rachael and Extension about the possibility of implementing it," Morgan said. "It's been a really great partnership. We're continuing to grow and improve our industry through the education they deliver. There are other national and regional industry certifications, but this one is special because it is curated specifically for Mississippi tourism professionals, and that is incredibly valuable to our members."
While the pandemic was an unwelcome event, it played a part in boosting Mississippi's tourism industry.
"Since the pandemic, we've seen tourism grow," Morgan said. "During the pandemic, people were not going on faraway trips. They were exploring their own state and visiting easily drivable destinations. That trend has continued. This is a monumental time in Mississippi for tourism. Our leaders strategically invested in recovery after the pandemic, and this allowed us to come back much stronger than many other areas."
These investments from the legislature, along with dedicated marketing funding they implemented in 2019, has helped Visit Mississippi launch a comprehensive, data-driven marketing plan that has allowed our state to be significantly more competitive than ever before, Morgan said.
"We are grateful for the support we've gotten from our legislators and for their commitment to tourism development. The state tourism office's marketing campaign combined with the post-pandemic recovery initiatives have converged to make a significant impact for Mississippi's tourism industry, and we see that impact in the additional revenue generated for our state," Morgan said.
Not only do visitors enjoy the benefits of a bustling tourism industry, but residents' lives are enriched as well.
"The things that make tourists want to visit Mississippi are the same things that make people want to live in Mississippi. Attracting and retaining the best and brightest talent is more important to our state's future than ever before," Morgan said. "We always say, 'A nice place to visit is a nice place to live.'"
The application for the next Excellence in Tourism Leadership Program opens Nov. 1 at https://tinyurl.com/bddzrcty. For more information about the program, visit the Extension website at https://tinyurl.com/cn49kbsn.
Source: MSU Extension expertise helps boost Mississippi tourism